Yet another stage is heading to Splatoon! Beginning tomorrow, Camp Triggerfish will be available for all players to ink to their hearts' content.
According to the official Splatoon Tumblr, Camp Triggerfish is built around a large body of water, forcing players to cross a series of bridges to reach enemy territory. Additionally, the stage utilizes flood gates at both team bases, which are lowered depending on certain circumstances. In Turf Wars, the flood gates are dropped when one minute remains on the clock, allowing for game-changing turf coverage late in each round. However, in Ranked Battle modes, these gates remain down the entire game.
Camp Triggerfish will be released to Inklings across the globe tomorrow at 7:00 p.m. PST. Don't bother ironing your camp uniform; it'll just get ruined, anyway.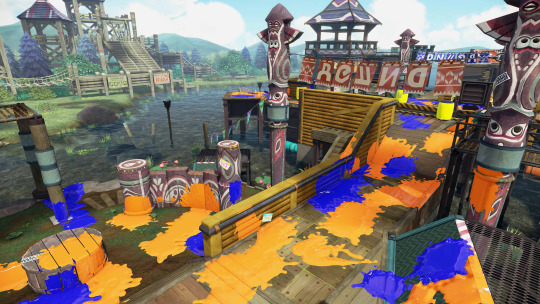 Leave a Comment