UPDATE 2: Nintendo has clarified the details of its promotional partnership with Facebook in an official press release.
The collaboration will take the form of a "hackathon" on July 28th and 29th, an event where Facebook employees will be given access to a demo version of Super Mario Maker. Individuals and teams will each create a level, then present their design to a panel of judges from Facebook and Nintendo. The winning level will be made available to download after the game's launch. Nintendo also has plans to document the event in a video series, and notes that there will be live updates on their social media channels throughout.
In an unsurprising but welcome addition, Nintendo has also confirmed that the 8-bit 30th anniversary Mario amiibo will launch alongside Super Mario Maker on September 11th in the US. There was no mention of bundles, like the ones recently announced for Europe, but we'll keep you posted.
---
UPDATE: A mere 20 minutes or so after they went up, Nintendo pulled the tweets from their feed.
Here are the original tweets: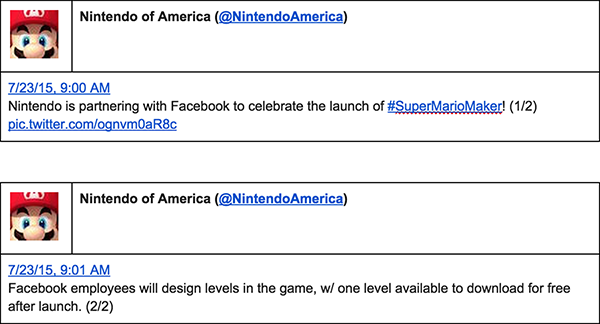 ---
In a series of tweets this morning, Nintendo of America outlined plans to team up with Facebook to "celebrate the launch of Super Mario Maker." In what sounds like a simple cross-promotion, Facebook employees will be given the opportunity to create levels for the new world builder. After the game launches, one of these levels will be made available as a free download.
Is this a simple marketing stunt, or potentially the groundwork for a larger endeavor? As always, we'll be keeping a close watch on this and all other details about Super Mario Maker leading up to its release.
Leave a Comment