Amiibo News and Nintendo Inquirer are proud to introduce GandaKris as the second artist who's donating a custom amiibo for the Customs for a Cure charity auctions this July. She brings a whole lot of creativity to the table when it comes to customization. From painting to sculpting, GandaKris knows how to make her art stand out in a crowd!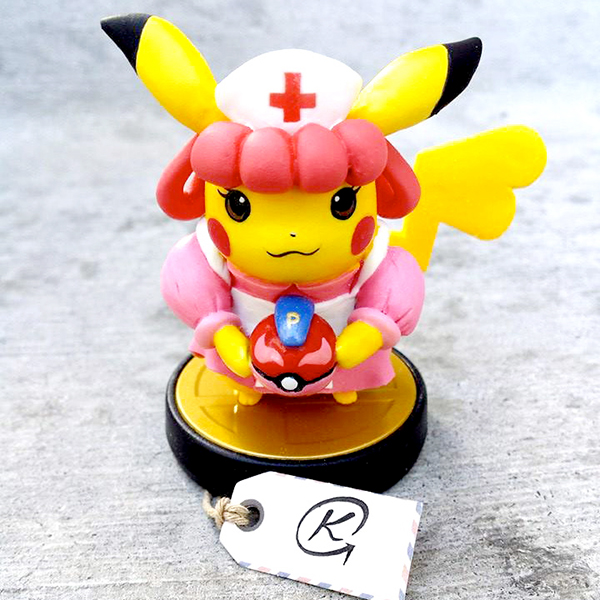 She's created a beautifully crafted Pikachu with the theme of Pokémon's Nurse Joy. According to GandaKris, the following materials were used to create this piece: a Pikachu amiibo, air dry clay, model paint, passion and a whole lot of love.
"When starting this project, I knew I wanted to incorporate the St. Jude theme and went through various designs. I finally realized that many, if not all Pokémon fans, are familiar with the PKM Center jingle. It's a sound ensuring that, once you open your pack, all your Pokémon are healed of their ailments.

Wouldn't it be nice if life worked that way, to be completely healed after a simple tune is played? You entrust Nurse Joy with your Pokémon. So for the children at St. Jude, I wanted to let them know that everything will be okay in the hands of their nurses and doctors."
This amiibo, and many more custom pieces, will be available for auction in late July during our Customs for a Cure event. 100% of the proceeds will be donated to St. Jude Children's Research Hospital to aid in the fight against childhood cancer.
We'll be sharing more information and introducing new artists leading up to Customs for a Cure in late July, so stay tuned!
---
About GandaKris: Krystyne Escalambre, the artist who goes by GandaKris, has been part of the competitive fighting game scene since high school, right along with a few of the top melee players in Super Smash. She was quiet back then, so instead of making friends, she often enjoyed spending time alone and combined two things she greatly loved: video game and art. Even though she was enrolled in art classes here and there, she never quite warmed up to the idea of completing assignments for them. Instead, she was much more drawn to her personal projects that involved creating custom figurines of Super Smash characters with clay and drawing her favorite Pokémon.
After witnessing the struggles the Smash community has overcome, Krystyne has become even more passionate about the people who share her love for the game. Knowing that she can give back to the community by sharing her talent with the world keeps her motivated to keep doing what she's doing.
Leave a Comment