Super Mario Maker was first announced at the Electronic Entertainment Expo (E3) in 2014, although at the time, it was simply known as Mario Maker. Leading up to E3 2015, Nintendo held its Nintendo World Championships where the newly titled Super Mario Maker was properly shown off in all of its glory. The focus on the game had mainly been on the creation and sharing of Super Mario levels, but the final round of the Championships seemed to open eyes of the gaming industry as to where all the fun, excitement and gameplay were hidden.
Yes, Super Mario Maker is still a game about making Mario levels, but the creationists in gamers that it's trying to evoke will be hit and miss with the fanbase. The true bread and butter for this game is all about actually playing the levels created within Super Mario Maker, as every level from the most basic to the most seemingly impossible level will be what every fan of the Super Mario franchise is looking for. The debut of the game caught fans by surprise, and giving a closer look of Mario Maker a year later showed off why fans should be interested. Actually having the opportunity to play it on the E3 show floor was all the proof needed that Super Mario Maker is going to be a must-have for Nintendo fans this fall.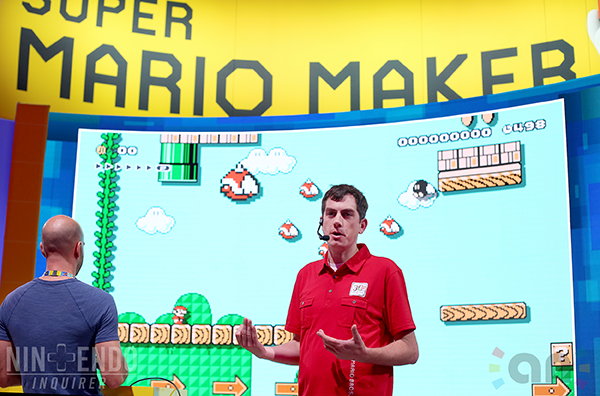 Being able to build levels with Super Mario Maker was incredibly fun, and surprisingly much easier than I anticipated. While I've dabbled in Minecraft and the Toy Box mode in Disney Infinity games, I've never really been hooked by the DIY creation aspect of video games. I think I just don't have the patience, to be honest. But with Super Mario Maker, I enjoyed my time playing around with familiar objects, power-ups and enemies, placing them down, rotating, stacking and designing my own Mario levels. Yes, to design a full-fledged level like what was shown off during the Nintendo World Championships would take more time and effort than was allowed to me during my demo, but I immediately got a great feel for how it works. The learning curve might be steep for intricate and complicated levels, but as with anything else, practice will make perfect. Creating some fun and entertaining levels to share with friends or just the community didn't feel like it would be as daunting as it first seemed to me.
I was also able to play some of the levels downloaded, which included the levels played during the Championships. It was reported that the game will ship with 100 different levels to choose from, meaning right out of the box there will be plenty of challenges to try and tackle. Player-created levels will be available to download as well, but the best part of downloading levels is the reassurance that no level can be uploaded until it has been beaten at least once by the creator. No risk of downloading broken, busted levels eases the worry of the community being anything but reliable.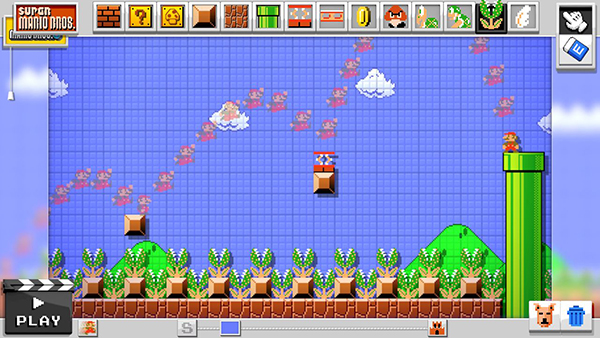 Playing Super Mario Marker felt just like any other Super Mario game, especially in regards to what game/level style I was testing out. I played a level designed in the fashion of all four available Mario styles: Super Mario Bros., Super Mario Bros. 3, Super Mario World and New Super Mario Bros. The levels were filled with items and enemies from all four games, but each level played and felt just like it should. Playing easy levels was charming and relaxing, while the expert levels instantly created stress, anxiety and insecurities in my gaming abilities. The most notable takeaway from playing the litany of levels I did was realizing that everyone, from the most casual of gamers to expert speedrunners, will find levels to play and enjoy in Super Mario Maker.
While the game might not have caught the attention of people a year ago when it was unveiled, there is every possible reason for Nintendo fans new and old to look forward to Super Mario Maker now. The game will be released on September 11th, and it will feature amiibo support. Super Mario Maker is aiming to be the most perfect and fitting celebration for the 30th anniversary of Super Mario Bros.
Leave a Comment