The Pokémon Company has announced that Pokémon Shuffle Mobile, a mobile game based on the popular 3DS eShop puzzler, will be coming to iOS and Android devices later this year.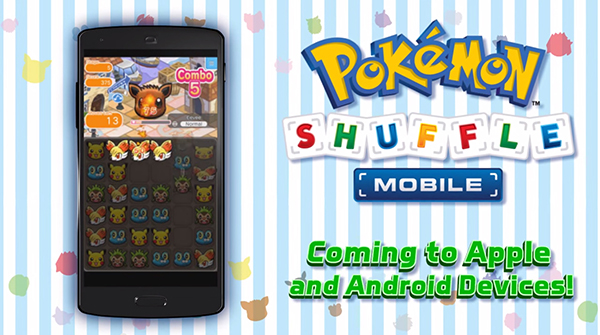 Pokémon Shuffle is a puzzle adventure where players match icons of popular Pokémon in order to defeat wild Pokémon encountered throughout the game. The player can capture these wild Pokémon and use them throughout their adventures. Pokémon Shuffle is considered a freemium game that supports the use of microtransactions in order to progress the game forward at a faster rate. Pokémon Shuffle Mobile will follow the same strategy by charging nothing for the initial download, but it will support in-app purchases throughout the game. The game will support free session play every day and will become locked after five sessions are completed. Players can then purchase play tokens to avoid waiting for a free session to unlock. It's unclear at this time how much each play token will cost when the game launches.
The Pokémon Company has not announced an official release date as of yet, but it promises the game will be available in the Google Play Store and the Apple App Store sometime in 2015. While we wait, enjoy the debut trailer below!
Leave a Comment