For those still mourning the unfortunate delay of the North American Splatfest, perhaps this news will be of comfort to you: a ton of content scheduled to make its way to Splatoon has been discovered. The content, which has remained "locked" on the game disc, includes 33 unreleased weapons, two new game modes and two new maps.
Since its release, Splatoon has been receiving regular updates, gifting new weapons and stages to players weekly. Developers released the latest update, which introduced players to the Bluefin Depot map, just two days ago. However, these DLC updates aren't brand-new content; they have been included within Splatoon game files since release but have remained inaccessible to players. Earlier today, a curious data miner has managed to rip a number of files from the game disc, revealing what's in store for gamers within the coming weeks.
Two new maps, dubbed "Camp" and "Skyscraper," as well as a number of Ranked Battle mode selection images were discovered. Along with a mode selection image for Splat Zones, pictures for "Tower Control" and "Rainmaker" modes were also found.
Splat Zones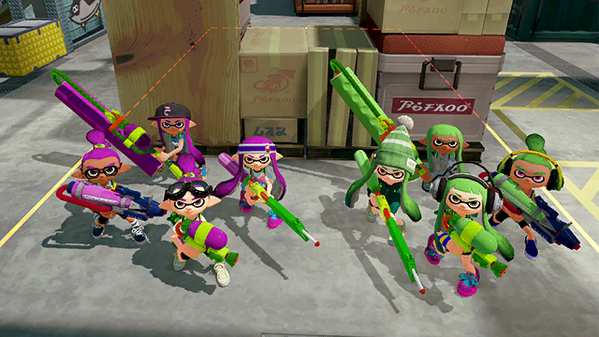 Tower Control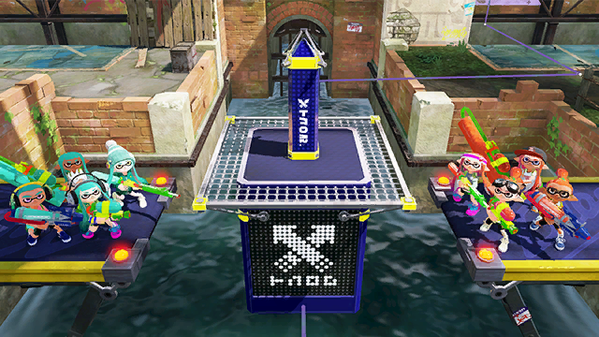 While the specifics of "Tower Control" were revealed during May's Splatoon Nintendo Direct, "Rainmaker" has remained a bit of a mystery. In-game text details the mode, in which opposing teams compete to control an item called the Rainmaker. After grabbing the Rainmaker, players then aim to carry it to the other team's base.
Rainmaker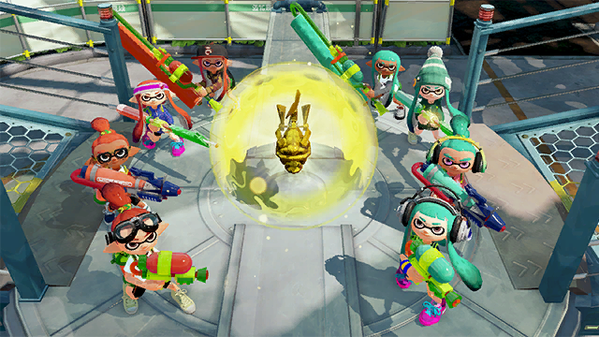 Additionally, in-game files disclose the existence of 33 additional weapons, including several new brushes, rollers and what appear to be gatling guns. Here's a full list of weapons found, including sub-weapons and special weapons:
1. Sploosh-o-matic – Squid Beakons & Killer Wail
2. Neo Sploosh-o-matic – Point Sensor & Kraken
3. Neo Splash-o-matic – Burst Bombs & Inkzooka
4. N-ZAP '89 – Sprinkler & Inkstrikes
5. Custom Dual Squelcher – Squid Beakon & Killer Wail
6. Luna Blaster – Ink Mines & Inkzooka
7. Luna Blaster Neo – Splat Bombs & Bomb Rush
8. Range Blaster – Splash Wall & Inkstrike
9. Custom Range Blaster – Splat Bombs & Kraken
10. Rapid Blaster Pro – Seekers & Inkzooka
11. Rapid Blaster Pro Deco – Disruptors & Killer Wail
12. L-3 Nozzlenose D – Burst Bombs & Kraken
13. H-3 Nozzlenose – Suction Bombs & Echolocator
14. H-3 Nozzlenose D – Point Sensor & Inkzooka
15. Carbon Roller – Burst Bombs & Inkzooka
16. Carbon Roller Deco – Seekers & Bomb Rush
17. Inkbrush Nouveau – Ink Mines & Bubbler
18. Octobrush – Squid Beakons & Kraken
19. Octobrush Nouveau – Splat Bombs & Inkzooka
23. T_BigBall_Diffusion01
27. Custom E-liter 3K Scope
When this content will start rolling out to players is unknown, but it certainly appears that Splatoon fans have much to be excited about! Stay tuned for further developments.
Leave a Comment