Spirits were high and the hype was uncontainable at the 2015 Nintendo World Championships, during which contestant John Numbers walked home as this year's winner. With special guest appearances by Nintendo of America President Reggie Fils-Aimé and Shigeru Miyamoto, the 25th anniversary celebration of the original 1990 Nintendo World Championships was certainly one for the books.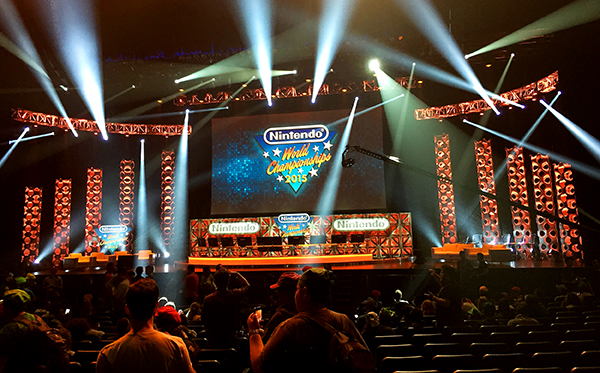 John Numbers was joined by 15 other hopefuls, all of whom competed against each other in a series of increasingly difficult Nintendo game challenges. Half of the 16 participants were handpicked by Nintendo to compete in the tournament while the remaining were winners of qualifying rounds held at Best Buys across the U.S. Speedrunners Sinister1, Cosmo, Bananas, Essentia and Trihex, NES completionist TheMexicanRunner, Smosh Games's Jovenshire and Arin of Game Grumps were all present at the event, having been invited by Nintendo to participate. John Numbers, along with JksnBlksn, Packie, Timzy88, BSG4000, Mad Mage, MrBlarney and Fernsig01, were the lucky few winners of the qualifiers that had earned the opportunity to compete.
The competition was held at Los Angeles' Microsoft Theater, with hosting provided by Kevin Pereira, previously of video game network G4 fame. A number of commentators also lent their talent for the show, including Andre of Black Nerd Comedy, Ethan and Audrey from Nintendo Treehouse, djWHEAT, D1 and Justin Flynn.
The tournament's organization was simple, mainly focused on a series of rounds through which contestants could advance through the quality of their performances. If a contestant failed to make it through to the next round, they were dropped to the "Underground" (the event's progression map was themed like a Super Mario Bros. stage), where they had to compete with a number of other unlucky peers in an elimination game. Only one winner could emerge from each elimination stage, meaning those who did not perform adequately enough would be sent home. Elimination rounds were played after each main stage, with one ultimate victor able to completely surface from the Underground; that meant that once a contestant was Underground, they stayed there unless they were able to win each elimination. Once two winners were found, a final game was played to determine the tournament's champion.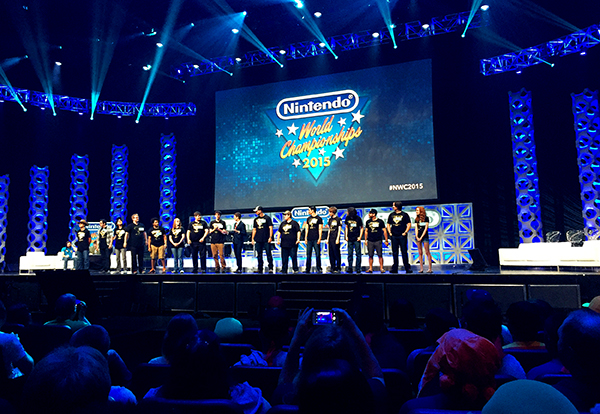 The 2015 Nintendo World Championships hosted eight different games: a mixture of both old-school and current titles. The competition began with Splatoon as its Stage 1 game, the first time the shooter had ever been played in a tournament setting. Splatoon was followed by The Legend of Zelda for an elimination round, requiring competitors to speed-run through the first dungeon of the game. Super Metroid, Mario Kart 8, Balloon Fight and Super Smash Bros. for Wii U were also among the video games played. Contestants even competed in a previously-unannounced title: Blast Ball.
The afternoon was put on hold for a surprise appearance from Reggie Fils-Aimé who, making good on his promise at last year's Super Smash Bros. Invitational, showed up to beat said invitational's winner in a game of Super Smash Bros. for Wii U. Hungrybox, Reggie's opponent, came out victorious, his Jigglypuff effortlessly defeating Reggie's Ryu.
Following the elimination of 14 other competitors, John Numbers and Cosmo went head-to-head in a game of Super Mario Maker. After scrolling through numbers of grueling, Nintendo Treehouse-designed levels, John Numbers came out as champion. Shigeru Miyamoto then took the stage, awarding both John Numbers and Cosmo autographed New Nintendo 3DS XLs and John Numbers his coveted trophy.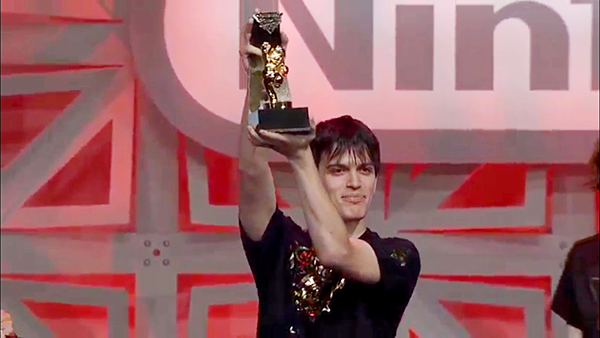 The tournament closed with host Kevin Pereira thanking the afternoon's participants and viewers as well as the commentators and developers who helped make it happen. Those who viewed the livestream were faced with the end screen from Super Mario World – a fitting conclusion for the 2015 Nintendo World Championships.
Leave a Comment