Nintendo isn't wasting any time rolling out additional content for its latest and greatest IP, Splatoon. The company's colorful new take on the shooter genre is barely a week old and it's already released a second update that adds even more content to the game. Coming on the heels of the N-Zap '85 and the addition of ranked battles, players can now splat each other with another brand new weapon known as the Inkbrush, according to the Splatoon developer blog.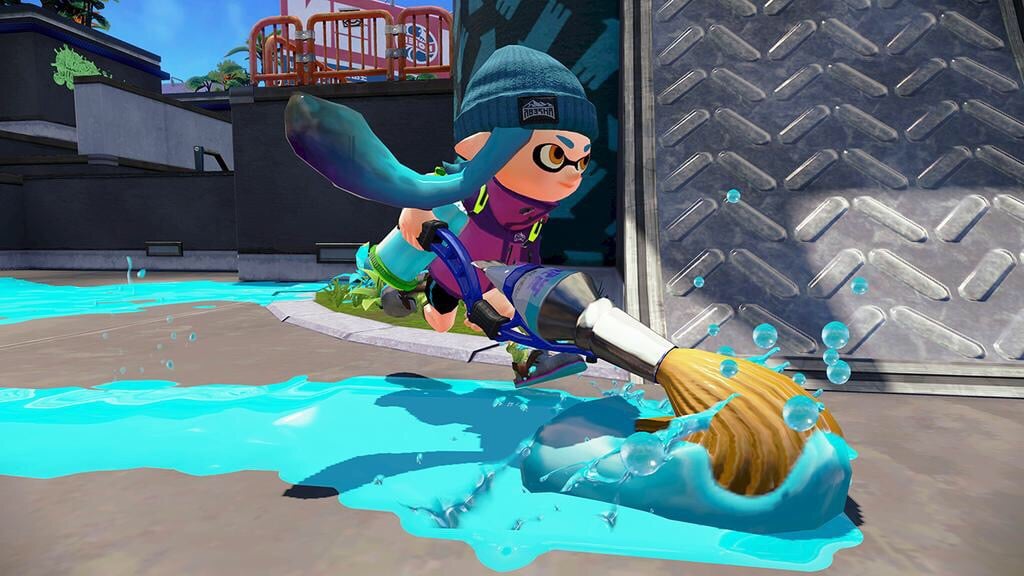 Splatoon fans already acquainted with the Splat Roller weapon should have no problems with using the Inkbrush. Similar to that weapon, the brush allows players to ink their turf wherever they walk. Comparatively, the Inkbrush is lacking in both power and range, but in exchange, brush-wielding players will enjoy a sizable speed boost over the rollers. So even if it doesn't exactly pack a punch, players probably won't notice while they're busy inking circles around their opponents.
Perhaps the Inkbrush's greatest virtue is its versatility. While it primarily lends itself to inking long trails by holding down the fire button, tapping the fire button will instead swing the brush back and forth, inking a wide swath in front of the player. The Inkbrush also comes equipped with the Sprinkler sub-weapon, which can keep an area thoroughly inked; and the Inkstrike special weapon, which has proven highly effective in the Splat Zones game type. This splatastic selection should allow players to adapt to almost any situation with the Inkbrush.
The Inkbrush is available now as a free update to Splatoon. If these updates are any indication, it seems Splatoon fans can look forward to an exciting summer full of new weapons, modes and stages to enjoy. Stay tuned to Nintendo Ink-uirer for more Splatoon news. Until then… staaay fresh!
Leave a Comment