To top off Nintendo's major earnings report for fiscal year 2014, the company announced that it's partnering with Universal Parks and Resorts to bring iconic gaming characters to the theme park.
Nintendo is promising to create "spectacular, dedicated experiences based on Nintendo's wildly popular games, characters and worlds."
And yes, this will be more than just having Mario and the gang walking around the parks.
"The immersive experiences will include major attractions at Universal's theme parks and will feature Nintendo's most famous characters and games."
The concept of having Nintendo characters be featured in a theme park and has been theorized and discussed for years. The fact that we're finally inching closer to it becoming a reality is incredibly exciting.
To commemorate this announcement, everyone here at Nintendo wire has shared his (or her) greatest Nintendo amusement park dream. From rides, to shops, to interactive features, we want to see it all!
Josh: Exploring a Hyrule village
While the major Nintendo franchises are unquestionably talked about as far as rides and attractions are concerned, I can't help but wonder if important aspects of the worlds we love will be overlooked. For example, The Legend of Zelda. An adventure style quest of some sort is the obvious first thought, but what about bringing the villages within Hyrule to life instead? Imagine how fantastic it would be to walk around a little shopping district dressed up as Castle Town, with little bazaars and game shops, outside vendors and entertainers, and anything else that could make you feel like Link without all that danger and whatnot. All I would need is some free roaming chickens to chase after and I would be sold.
Lauren: Witnessing an Animal Crossing town come to life
Much like Josh's vision of exploring a Hyrule village, I want to be completely immersed in a world I cherish and love. That's exactly why walking through a life-size version of an Animal Crossing village is my dream. The chance to see those adorable houses sprinkled across the green landscapes of a summery Animal Crossing scene makes me want to book a flight to a Universal Studios location right here, right now. As much as the idea of people wearing large costumes scares me, I wouldn't mind seeing the ever-so-cute Isabelle waving at me (from a distance). Or having Reese and Cyrus greet me at Universal's colorful version of Re-Tail. The possibility of animatronic characters is also something to consider. With the way Universal has put its heart into the creation of the Wizarding World, there's no doubt in my mind that every bit of quality and craftsmanship would be put into an Animal Crossing village.
Pretty please, Nintendo?
Joe: Visiting a shooting gallery in Hogan's Alley
Several attraction ideas went through my head when I first heard Nintendo's plan to team up with Universal: a Sin and Punishment roller coaster and a Punch-Out!! restaurant (with various ethnic dishes based on the boxers) being two of my favorites. I had to dig deep to settle on one.
Hogan's Alley: The Ride. Young readers may not remember Hogan's Alley, since Nintendo has never re-released it, but it was one of the original Black Box games on the NES. It was a Light Gun shooter that tasked you with shooting cardboard cutouts of criminals. The ride would work like the Toy Story shooting gallery ride at Disney: you ride in a little cart with a Light Gun and shoot projections cardboard cutouts of criminals.
I'd ride it!
Jason Grier: Walking through a Luigi's Mansion themed haunted house
I would love to see a Luigi's Mansion ride. I've always been a fan of theme park haunted houses, and the Luigi's Mansion would be a perfect fit in Nintendo's park. It'd have that perfect line of adding some comedic situations with ghosts, but also those quick turns to keep you on the edge of your seat. If they made it in the style of Buzz Lightyear's Space Ranger Spin and allowed you to shoot at targets from your vehicle, that would be even better. But in the end, let's be honest, I am just excited for the dedicated gift shops.
Jason Ganos: Doing a Barrel Roll on a Star Fox roller coaster
For me, a Star Fox roller coaster is a no-brainer when it comes to thinking of my ultimate Nintendo amusement park attraction. I can see it so clearly in my head now: the cart is shaped like an Awring and it takes off up a large incline made to look like a launchpad. Speakers are strapped into the headrest so I can hear Fox, Slippy, Falco and Peppy talk to me throughout the ride. Hearing them would totally immerse everyone I'm on the ride with even further into the mission we're all about to partake in. Even now, I can hear that totally epic Star Fox music and all the sound effects. Just as the coaster flies through a corkscrew at the end, Peppy yells, "Do a Barrel Roll!" I'd walk away from that experience knowing I just rode the best darn coaster that ever existed.
I couldn't help but mock up my idea to help show what I'm envisioning.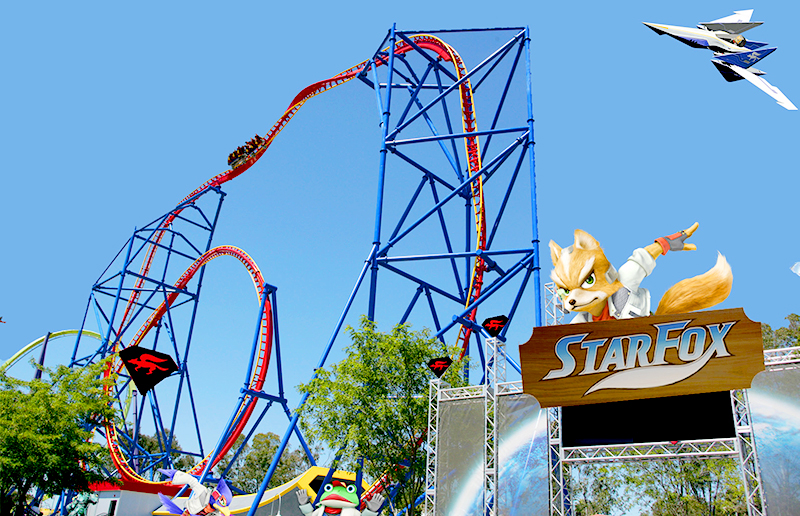 Leave a Comment