Dragon Quest VIII will be releasing on the Nintendo 3DS in Japan, over 10 years after it's initial release in 2004 on the Playstation 2.
The re-release of the game will include new content and features to make the release compelling for new and returning players.
According to a translation by Gematsu, in the Nintendo 3DS version, players will have a new scenario to face, new party members, complete voiceovers, a soundtrack recorded by the Tokyo Metropolitan Symphony Orchestra, as well as some StreetPass features.
Players who wish to pre-order the game will have the ability to get the following bonuses at partnered retailers:
7-Eleven: Accessory (for everyone) Lucky Pendant, a magic pendant that makes it easier to dodge enemy attacks.
Amazon.co.jp: Armor (for everyone) Healie T-Shirt, a mysterious shirt that recovers HP little by little as you walk.
Aeon: Helmet (for everyone) Healie Cap, a hat that increases your dexterity and maximum HP.
Yodobashi Camera: Shield (for everyone) Metal Slime Tray, a metal tray that slightly defends against magic attacks.
Game Tsutaya: Weapon (for the protagonist) Golden Bamboo Spear, an expensive spear made of pure gold. If you don't want it, you can sell it for 5,000 gold.
Square Enix e-Store: Weapon (for Yangus) Candy Cane, a mysterious spear that will absolutely cause damage and is even effective on metallic monsters.
Dragon Quest VIII for the Nintendo 3DS will be released on August 27th. It hasn't been announced for territories outside of Japan at this time, but is available on the iOS and Android platforms.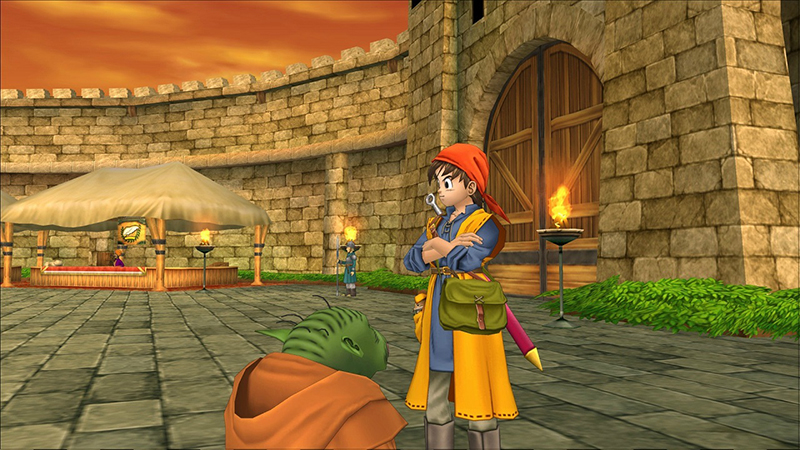 Leave a Comment