Photos of the highly anticipated Villager Amiibo reprint have surfaced online and have prompted fans to rush to Japanese vendors like Amazon Japan and YesAsia to place their orders.Here's what a clear comparison of the original figure versus the reprint look like: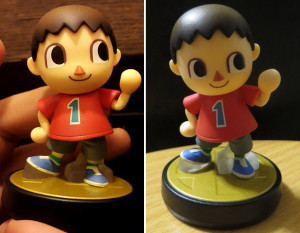 Credit: Redditor LegendAssassin (http://www.reddit.com/r/amiibo/comments/34mowm/better_look_at_old_villager_vs_new_villager/)
Let's break down the differences of the two. The original Villager's eyes appear more elongated and are placed evenly between the hairline and the nose. The reprint shows changes in the eye shape and placement. Its eyes look somewhat rounder and are placed lower on the face, hugging the nose a lot more.
Most of the other details on the Amiibos seem to be fairly close in comparison. It's difficult to tell whether or not the colors differ in most of the photos people are sharing at this point.
People have already started sharing their opinions of the original and reprint. Some believe the eyes on the reprint are much too low, making it less appealing than the original, while other fans say that they prefer the new look.
It all boils down to opinion at this point. Wherever your opinion lies, you've got to admit that seeing Nintendo reprinting Amiibos is undeniably exciting!
Leave a Comment