EDIT: The port strikes are over after 4 days!
Port worker strikes have once again affected the flow of goods at ports in Los Angeles and Long Beach. Back in February, it was stated by Nintendo President Satoru Iwata that the original 2015 strikes had caused shortages of Amiibo and New 3DS XL devices for U.S. consumers. While that may have been part of the reason behind the shortages earlier this year, these latest strike does not necessarily mean Nintendo products are going to be affected this time around.
According to the L.A. Times, "L.A. and Long Beach port officials said Tuesday morning there was no noticeable impact to cargo flow."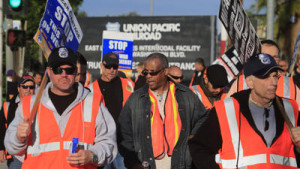 Image via LA Times
Jon Slangerup, CEO of the Port of Long Beach, also seems confident that business will go on as usual:
"Dockworkers have reported to work and truckers have been able to enter and exit the affected terminals without delay. We do not expect that there will be any adverse impact to Port terminals or our ability to continue the outstanding progress that everyone has made in recent weeks to clear the congestion backlog and return to normal operations."
Taking these local sources into account, there doesn't seem to be any sign of heavy or long term impact to the port terminals, and it appears that most activity should continue as scheduled.
So worry not, Nintendo fans; there is no solid reason to agonize over Amiibo and other product related shipments as of now.
Leave a Comment