Nintendo has a brand-new My Nintendo mission available! Members who are looking for 100 Platinum Points to add to their stash, it's off to the official Mario Party Superstars site. There, you'll be on a dice block scavenger hunt. There's a total of four dice block types hiding throughout the site, and if you discover all four (and click them), you'll get 100 My Nintendo Platinum Points.
Here's where you can find all four dice blocks — Cursed Dice Block, Custom Dice Block, Double Dice Block, and Triple Dice Block — and earn those 100 Platinum Points ASAP!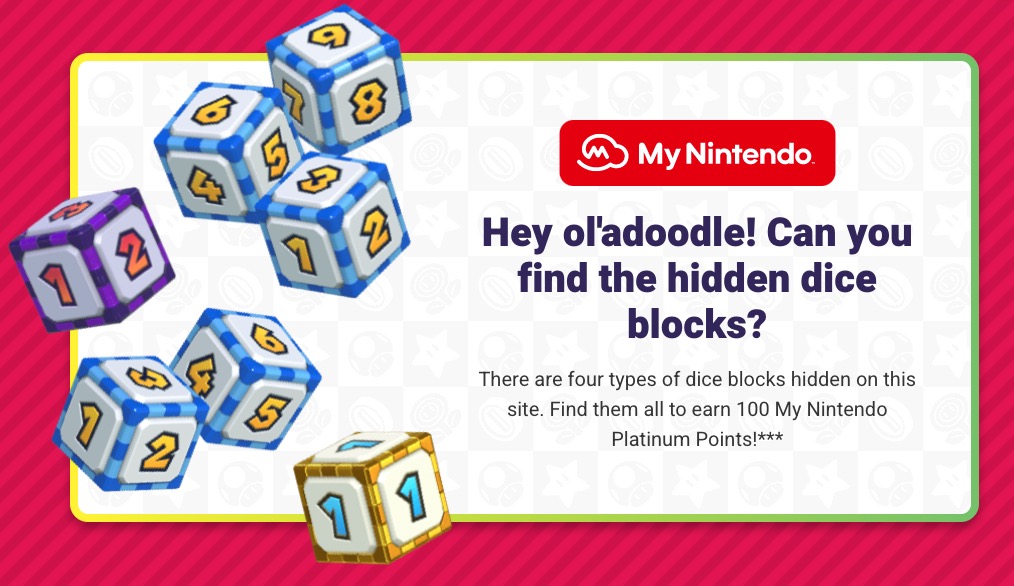 Where are the hidden dice blocks for the My Nintendo Mario Party Superstars Site Mission?
There are four dice blocks to find on the official site for the game. You can get to each page by using the site's Menu drop-down button in the upper left-hand corner to get to each individual page or scroll down on the Home page and find the links that way. To make the dice block hunting easier, you'll find all four in the following locations:
Minigames – the Cursed Dice Block is hiding in the Sports and Puzzles section.

Characters & Boards – the Custom Dice Block is below the "Race across five classic gameboards" section and above the artwork for Peach's Birthday Cake board.

Modes & Multiplayer – the Double Dice Block is hanging out in the Mt. Minigames section, under and to the left of "Daily Challenge" mode.

Pre-order today – the Triple Dice Block is at the end of the "Exclusively for the Nintendo Switch family of systems" section, below the "Nintendo Switch – OLED Model available Oct. 8" text.
Once you've found the fourth dice block, the following message will appear:

If you don't see this message, you can always check your My Nintendo Points history via the Point summary page on My Nintendo. Look for "Completed: Find the 4 dice blocks that are hidden on the Mario Party Superstars website to earn a total of 100 Platinum Points." and +100 Platinum Points next to it. If you have that, then you've found them all!
Leave a Comment