Here at Nintendo Wire, we're all dying to go to Super Nintendo World days and live out our lifelong dream of stepping into a real-life Super Mario world one of these days. However, the greedy gamer in me also pines for Nintendo to make a similar theme park attraction based on The Legend of Zelda, and while that doesn't seem to be officially in the cards just yet, Belgian Zelda fan Edlothian has built the next best thing.
Named "The Sanctuary," Edlothian has crafted an unbelievably incredible room based on the Zelda series. Each wall is densely detailed with various decorations based on various games in the franchise, with the Wind Fish's egg atop Mt. Tamaranch, The Wind Waker's opening cutscene mosaic, Link's Wall Merge form from A Link Between Worlds, the Door of Time from Ocarina of Time, and much, much more. Each corner is also loaded with Zelda merchandise, with games, figures, books, and other beautiful collector's items. I've spent a shamefully long time just looking at these photos to soak in every detail!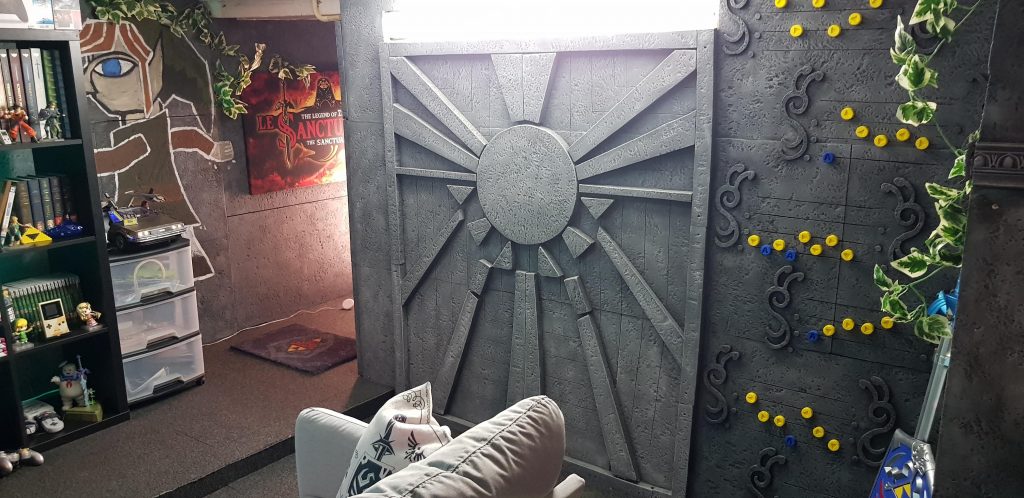 You can also catch an almost-ten-minute video tour of the room below, which only makes the entire project even more astounding. Edlothian also talks us through some of the building process, such as how he crafted many of the props and how he textured the walls to make that authentic, aged, weathered stone look. Just look at that locked dungeon door from Ocarina of Time!
For many more work-in-progress shots of the room, you can follow Edlothian's official Facebook page, and he also invites admirers of The Sanctuary to join his international Facebook group.
---
Via: Zelda Dungeon
Leave a Comment