Welcome to another Smash Seminar Tournament Preview! Here we'll be taking a look at the road leading to upcoming major tournaments, examining players' journeys along the way, and making predictions about who will be crowned champion.
It's early October once again, which means it's quite a season for sports and sports-type events. Baseball has the World Series, the American Football season just kicked off, and basketball looms in the distance. But for Smashers, October means one thing: time for The Big House to return in Dearborn, Michigan.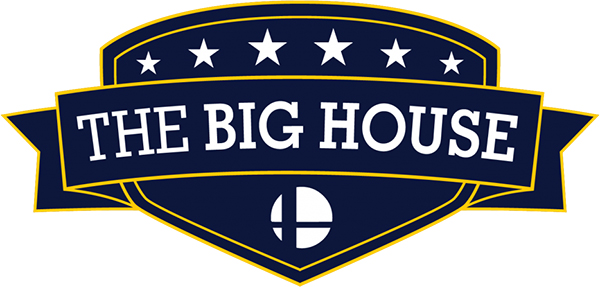 Originally hosted in 2011 as a Midwest regional by local TO Juggleguy, The Big House has grown exponentially over the years, jumping by over 400 entries between TBH3 and TBH4, and now the event is the premier Smash tournament of the autumnal season. The Big House 6 boasts the 4th largest Melee tournament of all time, only being bested by two EVOs and Genesis 3, while the Smash 4 event also comes in at 7th largest. Since the end of the "Summer of Smash," players have had time to simmer and prepare for this gigantic residence – and that hard work will hopefully pay off in victory. Let's jump into the storylines going into the event, shall we?
Melee: The return of gods, a king and a heretic
As unpredictable as Melee was leading up to EVO, it was perhaps not as scattershot as it is now – after a tumultuous summer of ups and downs for nearly everybody in the Top 10, it may be up to TBH6 to reestablish order in the land.
The two top players at the moment, Hungrybox and Armada, both have some slight concerns going into The Big House. Hbox, the EVO champ, has stumbled in both tournaments he's entered since then, falling to longtime rival Mang0 at Super Smash Con and then being defeated by SFAT and then Mang0 again at Shine 2016 to place 4th. Armada, meanwhile, has taken it a bit more easy, only going to two, relatively smaller European tourneys (Heir 3 and Syndicate 2016) which he took with ease, but it's unsure how hard he'll bounce back after EVO. Both will definitely be out to prove themselves as best in the world.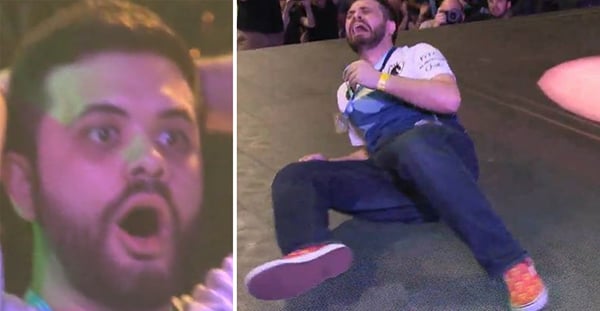 EVO 2016: Hungrybox
In place of them, Mang0 and Mew2King have come to pick up the slack. The former took SSC to continue his surprisingly consistent (if still somewhat erratic) 2016, and also placed well at Shine despite being double eliminated by SFAT. M2K, meanwhile, took Clutch City Clash and Shine, marking the first time in years where he had taken a tournament with three or more "gods" in attendance (though he technically didn't face Mang0 or Hbox in bracket), winning with a surprising amount of vigor and confidence. These two have proven they can't be counted out, and they have an equally good chance of taking this one.
Meanwhile, in the distance, there looms the return of one of the game's greatest. Swedish Fox player Leffen has been facing visa issues for one year exactly, but finally got approved less than one week before The Big House – and he'll be confirmed to be in attendance. As he detailed right before he departed for the States, however, he won't be taking the tourney seriously, playing for fun rather than for glory. While Leffen at full power would be able to take the entire tourney for himself, it's unknown how far he'll get by sandbagging or taking it easy. If there was one player with a chance of taking it from the gods, it's him, but it appears as if the Godslayer won't be showing up in full force to Dearborn.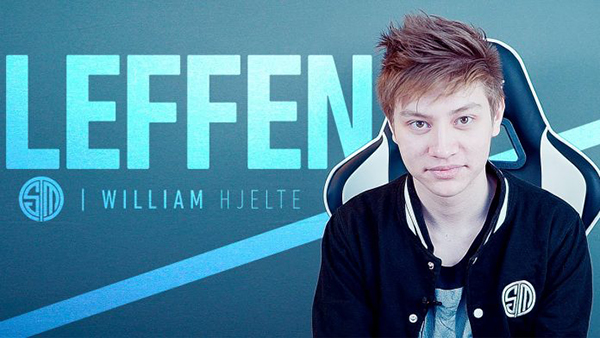 There are some other rising stars of note, however. Florida star Plup has begun breaking out his Fox in recent months, giving him three notable characters (along with Sheik and Samus) to work with. SFAT has been on fire in recent months, defeating his personal demon Hbox and placing above him and Mang0 at shine – and it seems as if he still can go higher yet. And you can't count out players like Westballz, Shroomed, and Axe – they've made known upsets before.
You can never truly count out somebody in Melee. Will Hbox or Armada reassert their dominance? Will Mang0 or M2K vie for the top spot? Will Leffen pull one over on everyone and emerge victorious? Or will somebody else swoop in and take it all? It's all a mystery.
Smash 4: Roll of the dice
Every time it seems as if some order's been established in the realm of Smash 4, something comes along and topples the balance. Every sizable tourney since EVO – Smash Con, Shine, and September's 2GGT Abadango Saga – has had upsets out the wazoo, and a crowd of fans for respective fans scratching their heads and wondering what happened. This has been happening for nearly half a year now, but it's still shocking.
The victor of two out of those three (Shine and Aba Saga), ZeRo, has helped redeem what was a slightly shaky summer, reminding people that while he may not be as dominant as last year, he still has a legitimate claim to best in the game. Nairo took Smash Con and got a new sponsor, reaffirming that despite some questionable performances at majors over the summer, he's still more than great.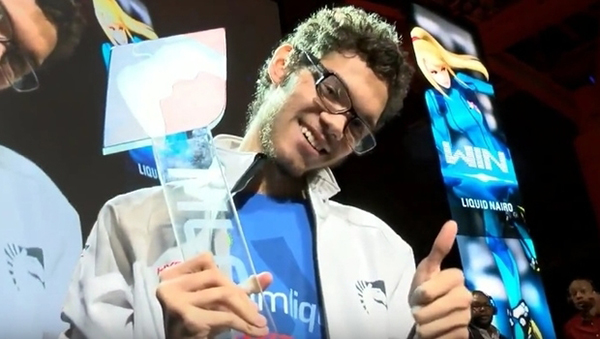 Nairo holding MLG trophy
EVO champ Ally has had a more turbulent time of things, taking a couple smaller tourneys but underperforming at the larger events. Abadango has done mostly well, but also had a couple of 13th place finishes at home in Japan and at his own saga (though that's a given – nobody wins their own 2GG Saga; it's a curse). The consistent 2nd placers – Mr. R, Dabuz, VoiD, and Larry Lurr – all have had good, solid performances, especially the latter's crazy loser's run at Aba Saga to take 2nd, but they have yet to nab a major for themselves. Add in a couple more wild cards like CEO victor ANTi and EVO 2nd placer Kameme (formerly Kamemushi), who could either buster out early or take it all for themselves, and you have a crazy, stacked tournament.
There's a couple slightly lower level players who have been on the up and up as of late as well. Bayonetta player Salem defeated ZeRo and Nairo back to back at Collision XIV, at would double-eliminate Tweek to take the entire contest. He's also won the other two tourneys he's participated in since then, so he's on a bit of a hot streak. Marth main Mr. E also beat ZeRo – this time back at EVO – and has also been on the rise, taking Glitch 2 over some notable competition and generally improving in play (though he is still inconsistent). And a personal favorite of mine, Dath, the Robin master, stunned and defied all expectations by taking 3rd at shine while being seeded 29th, defeating 6WX, Larry Lurr, and local favorite Marss in the process. These three and others have the capability to make waves, to keep on the lookout.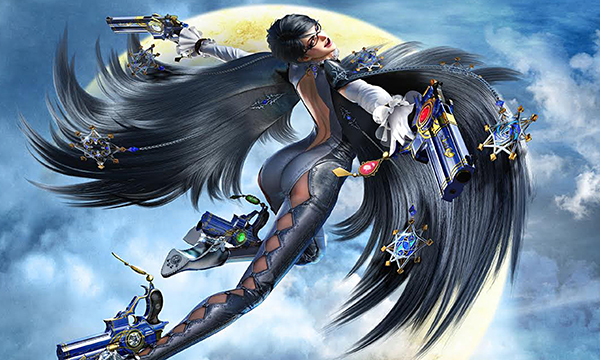 Smash 4 is as chaotic as ever. ZeRo appears to be back on the upswing, but there are dozens of players thirsty for a chance to be the best – and this is a perfect opportunity to do it.
Predictions
I'm absolutely dreadful at calling who will take it all, but it isn't too hard to determine who will place well in either game. All the gods in Melee will make Top 8, and it's likely that Plup and SFAT will, too. Smash 4 will likely see the usual bunch of Dabuz, Mr. R, VoiD and Larry Lurr in the upper echelons, along with somebody else who will likely take the tourney.
In Melee, it comes down to bit of uncertainty. If Hbox has rebounded from his wobbly past couple of performances, or if Armada comes back as strong as ever, then either of them will likely take it. Mang0's as erratic as they come, but given that he's won every even-numbered Big House he has superstition on his side. Mew2King's an ever so slight dark horse, but he has a better shot at this one than many others in past years. Leffen would be a complete wild card, but given his stated commitment to taking it easy it appears he's out of the running. Expect Armada or Hbox to take it.
Smash 4 is even harder to call. Smart money says ZeRo – especially if he can channel the crazy skill he exhibited last year at TBH5 – but my gut says Kameme. This will only be his second American tourney, but he proved himself at EVO and is still fresh enough that most aren't fully cognizant of his tricks and abilities yet. Of course, if Nairo, ANTi, Abadango, or anybody else is on fire, they could easily take it too. Once again, Smash 4 relies a lot on brackets and matchups, so we'll simply have to wait and see.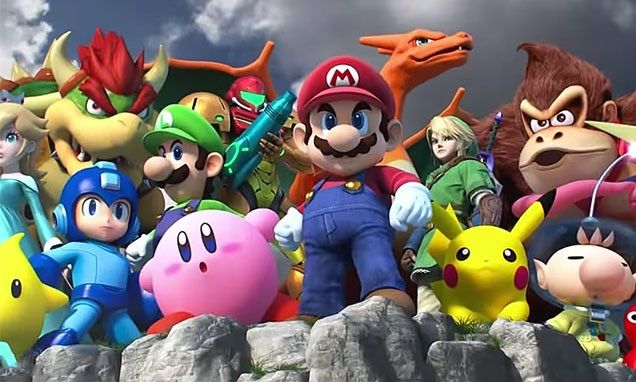 Brackets begin Friday, October 7th, at 11 a.m. EST. Finals are on Sunday, October 9th: 4 p.m. EST for Smash 4, 7 p.m. EST for Melee. No other Smash games are at the event, but there are some big regional crew battles, so tune in for some good, old-fashioned blood feuds at 3 p.m. on Friday for Wii U, or 4 p.m. the same day for Melee. (Finals will be at 11 PM for both games.) The streams for the event are twitch.tv/vgbootcamp and their affiliates. Check out the full stream schedule for details.
We hope you'll enjoy The Big House 6! We'll be sure to update with a results piece when the tournament concludes. Until then, stay Smashing!
---
Leave a Comment