Alolan Dugtrio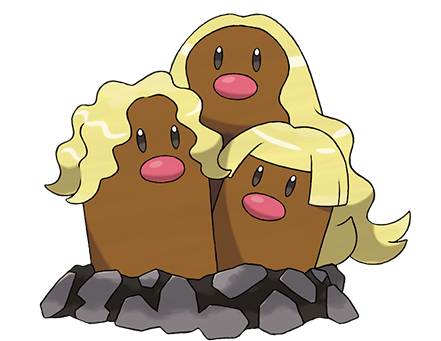 Series: Pokémon Sun & Moon
Pokedex No.: Unknown
Height: Unknown
Weight: Unknown
Type:

In the Alola region, Dugtrio is revered as an incarnation of the god of the land, and it's treated with great importance. This is why the people of Alola fall to their knees and bow deeply whenever they come across an Alolan Dugtrio that has poked its faces out of its burrow.

Alolan Dugtrio's whiskers shine with a brilliance akin to golden hair. The whiskers are flexible, just like Diglett's, but hard and strong. They continue to grow throughout an Alolan Dugtrio's life, although at a very slow rate. Removing Alolan Dugtrio whiskers from the Alola region is prohibited. It's said that those who take them receive divine punishment. Every year, many tourists come back, apparently to return whiskers they had taken.

There is a superstitious belief that many Alolan Dugtrio come out of their holes on a day when a volcano will erupt. Older residents of Alola will flee immediately at the sight. It's thought that Alolan Dugtrio, which live beneath the ground's surface, detect movements in the ground that indicate an impending eruption and are so alarmed that they come aboveground.