Tapu Bulu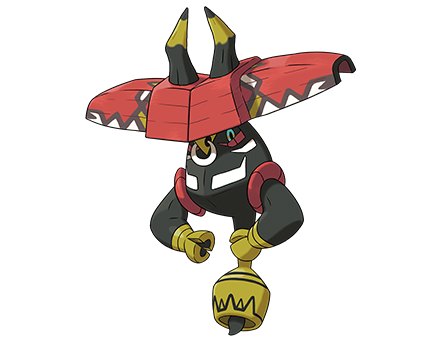 Series: Pokémon Sun & Moon
Pokedex No.: Unknown
Height: 6′03″
Weight: 100.3 lbs.
Type:

Tapu Bulu has the power to manipulate vegetation and cause it to grow. It can use this power on its own horns—which are made of wood—changing their shape or making them larger. This can come in handy in battle! This stolid Pokémon is not very active. People's opinions differ on whether it's as docile as it seems, or if the reason it doesn't move much can be chalked up to simple laziness.

Tapu Bulu does not like unnecessary battles or frightening other Pokémon. Because of this, it makes a loud ringing noise with its tail to alert those nearby of its presence. Although Tapu Bulu may not like to start battles, it shows no mercy when dealing with evildoers. It's said that when thieves once broke into its ruins, it punished them by swinging trees around like massive clubs.

Tapu Bulu can learn Nature's Madness, an attack that slams a target with all of nature's rage, which reduces the target's HP by half.

Tapu Bulu's Ability is Grassy Surge, an Ability that no Pokémon has previously had. With Grassy Surge, the field will be turned into Grassy Terrain when Tapu Bulu appears in battle, boosting the power of any Grass-type moves used by Pokémon on the ground and restoring a bit of HP to them each turn. It also halves the damage taken from the moves Earthquake, Magnitude, and Bulldoze.