Primarina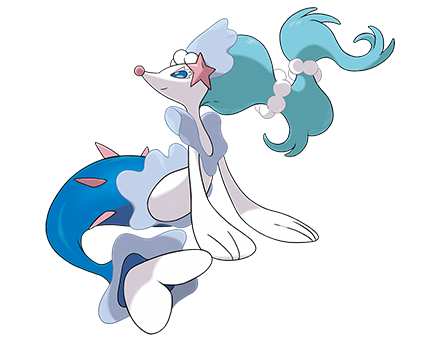 Series: Pokémon Sun & Moon
Pokedex No.: Unknown
Height: 5′11″
Weight: 97.0 lbs.
Type:

As it dances, Primarina releases balloons of water into the area around itself, moving them using the sound waves from its voice. The sight of moonlight reflecting off its glittering balloons creates a magical scene. Since Primarina controls its balloons using its voice, any injury to its throat can become a grave problem. Its greatest enemies are arid environments and the overuse of its voice during back-to-back battles.

Among the balloons that Primarina releases, some explode when touched, while others do not. Primarina jump on the non-exploding balloons while they make sport of their opponents, and they use the exploding variety to trigger chained explosions!

Primarina's songs have many variations, and each one changes the motions of the balloons. It has been observed that songs are shared among Primarina living together, so different colonies end up knowing different songs.

Sparkling Aria is a Water-type special move that only Primarina can learn, and it heals the burns of any target it strikes.