Incineroar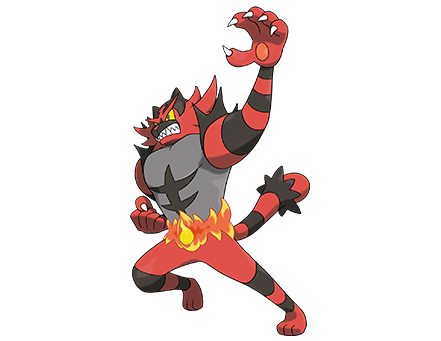 Series: Pokémon Sun & Moon
Pokedex No.: Unknown
Height: 5′11″
Weight: 183.0 lbs.
Type:

As its fighting spirit increases, the flames that Incineroar produces within its body burst from its navel and waistline. Since the flames somewhat resemble a championship belt, they're known as its "flame belt," and the Pokémon unleashes moves that use flames from it. In the heat of battle, Incineroar shows no concern for its opponents—and sometimes even launches attacks that strike the opposing Trainer! As a result, many tend to dislike this Pokémon and keep it at a distance.

If a crowd watching it battle is pumped up, Incineroar's fighting spirit will burn brighter. But a lackluster crowd can make it lose focus or fight shoddily. When it receives the admiration of young Pokémon and children, it may keep up its cold attitude on the outside, but in its heart of hearts, Incineroar is immensely happy. It loses the desire to fight when faced with a Pokémon that's clearly weak or injured, and it sometimes gets taken advantage of as a result.

Darkest Lariat is a Dark-type physical move that only Incineroar can learn, and it allows Incineroar to deal damage while ignoring the effects of any stat changes that the target might otherwise be affected by.