Tsareena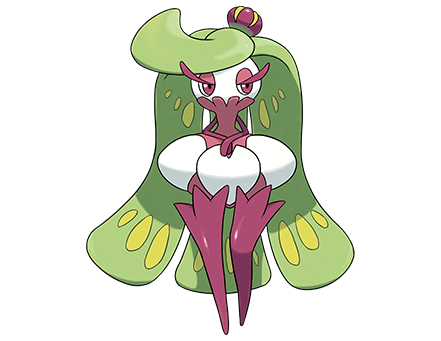 Series: Pokémon Sun & Moon
Pokedex No.: Unknown
Height: 3'11"
Weight: 47.2 lbs.
Type:

Tsareena has the nature of high-class nobility. Any Pokémon or human that approaches it with evil in mind will be punished forthwith. It even turns its fearsome glare upon its own Trainer if the two of them are not fully in sync, or if its Trainer orders it to use a move that will be ineffective. Only the strongest of Steenee are able to evolve. When this happens, the Steenee evolves with the blessing of other Steenee. It then uses its strength to protect the Bounsweet.

Tsareena is a high-kicking virtuoso. It has honed these skills beyond the level it achieved as a Steenee, and it attacks with graceful movements. At the same time, its fragrance mesmerizes its opponents, dealing them a secondary attack. Trop Kick is a move that only Tsareena can learn. It lowers an opponent's Attack by showering it with blazing hot kicks in a style similar to that originating from tropical countries. It's said that this Pokémon loses its strength if touched on the crown-like protuberance on its head.

Some Tsareena have the Queenly Majesty Ability, which no other Pokémon has previously had. The effects of Queenly Majesty are so intimidating that it prevents opponents from using priority moves.