Hakamo-o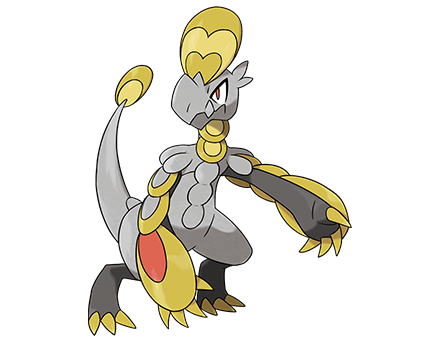 Series: Pokémon Sun & Moon
Pokedex No.: Unknown
Height: 3'11"
Weight: 103.6 lbs.
Type:

When a Jangmo-o evolves into Hakamo-o, it breaks from its fellows and begins to live on its own to train itself. Wherever it can find Pokémon to battle against, it seems to appear.

Hakamo-o dances before battle to show its strength, clanging its scales together to make them ring out. When this dance reaches its climax, Hakamo-o bellows a fierce war cry to challenge its opponent.

Its scales make for fine armor, so Hakamo-o doesn't worry about self-defense as it makes multitudes of strikes and overwhelms its opponents. But, as a result, its scales often become damaged and get torn off. They grow back immediately, so this does not cause Hakamo-o undue concern. In fact, it views the number of lost scales as proof of how ferociously it has fought, and it brandishes its bared arms in a boast of victory.