Alolan Grimer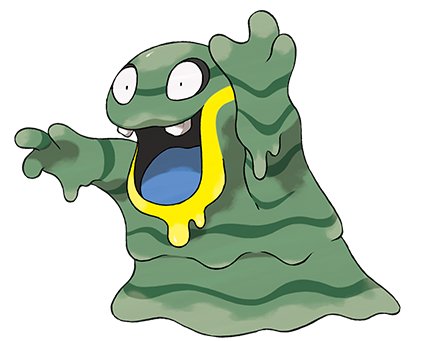 Series: Pokémon Sun & Moon
Pokedex No.: Unknown
Height: 2'04"
Weight: 92.6 lbs.
Type:

When the population of the Alola region increased, dealing with their garbage became a serious problem. As a solution, Grimer were imported from other regions. They fed primarily on garbage, so their body composition changed—as did their form. What appear to be teeth in this Pokémon's mouth are in fact residual toxins from the garbage it eats, which have hardened and crystallized. No method has been discovered to break down these crystals. Direct contact with them presents a danger.

Alolan Grimer is always eating garbage, but its constant hunger will cause it to begin eating other manufactured objects if it runs out of garbage to feed on. There are more than a hundred Alolan Grimer in Alola's garbage-processing plants, and all of the garbage produced in the Alola region is taken for use as their food.