Torracat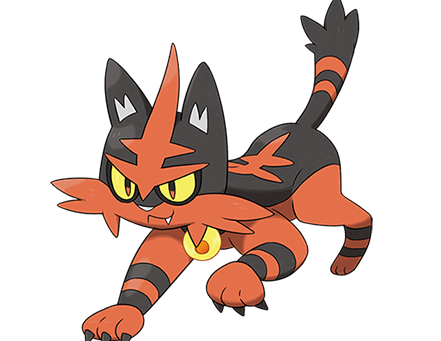 Series: Pokémon Sun & Moon
Pokedex No.: Unknown
Height: 2′04″
Weight: 55.1 lbs.
Type:

The bell-like object attached at the base of Torracat's neck is a flame sac, an organ that can produce flames. Torracat's emotions cause a rise in the organ's temperature, and when the organ spits flames, it rings with the high, clear sound of a bell. Torracat attacks using the flames emitted from this bell.

Torracat's mane serves as an excellent sensory organ, and it can sense what's going on around it—even in the dark! It can also detect the presence of hidden enemies.

Torracat has a great love for battle and will attack so relentlessly that its opponents lose the will to fight. And yet it sometimes behaves like spoiled child in front of Trainers or Pokémon with whom it has built a relationship of trust.

The cat punch that this Pokémon can dish out with its strong forelegs is extremely powerful. It can bend iron bars and knock out large men with a single blow!