Brionne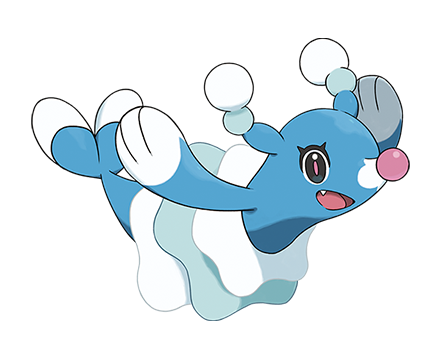 Series: Pokémon Sun & Moon
Pokedex No.: Unknown
Height: 2′00″
Weight: 38.6 lbs.
Type:

Brionne learns its dances by imitating the other members of its colony. It sometimes even learns dances from humans. This Pokémon is a hard worker and pours itself into its efforts until it has memorized each dance. As it dances, Brionne creates balloon after balloon. In battle, it first sends its opponent into disarray with its dancing, and then slaps its balloons into its target, causing the balloons to explode and deal damage.

Brionne can dance in perfect time with others, even if they have only just met. On moonlit nights, you can sometimes see throngs of Brionne dancing as one, in perfect fluidity.

Brionne always acts cheery and positive. Even when it's feeling sad, this Pokémon doesn't allow its sorrow to show. It's said that Brionne will only reveal a sad expression to a Pokémon or Trainer to whom it has opened its heart completely.