Passimian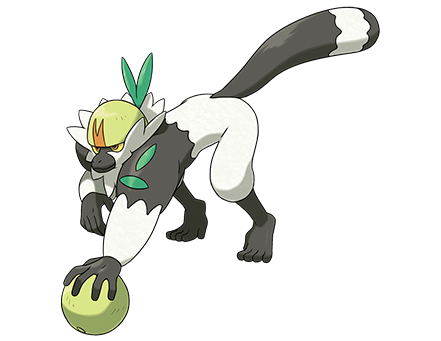 Series: Pokémon Sun & Moon
Pokedex No.: Unknown
Height: 6'07"
Weight: 182.5 lbs.
Type:

Passimian is a Pokémon that only appears in Pokémon Sun. If you're playing Pokémon Moon, you can obtain it by trading with someone playing Pokémon Sun.

Passimian live in troops of 20 to 30 individuals, all following a leader. This leader will take 10 of the individuals in the best condition to search for food. The troop's teamwork is strong, and the boss of each troop decides what mark members will wear on their arms to distinguish the troops.

The boss puts the troop members through training to improve their coordination with one another and their skill in handling Berries. Apparently this training is so hard that some Passimian end up running away.

Lobbing Berries at foes is how Passimian attack. They sometimes work in coordination with others, passing Berries back and forth to bewilder their opponents. Passimian don't just pitch hard Berries at opponents, either—they also have a technique that uses soft Berries to obscure their opponent's ability to see.

Passimian wants its Trainer to have the qualities of a leader as well. It watches a Trainer's form closely when he or she throws Poké Balls, and will not listen to the orders of a Trainer with poor form.

Passimian has a new Ability, Receiver, which no other Pokémon has previously had. With the Receiver Ability, this Pokémon can inherit the Ability of an ally who faints in battle.

The Midday Form Lycanroc is known for speedy movements that leave its opponents bewildered. It dodges opponents' strikes while attacking with the sharp rocks of its mane as it slips right past them.

Accelerock is a move that only Midday Form Lycanroc can learn. It slams into an opponent with quick moves. This move is guaranteed to strike first!