Crabrawler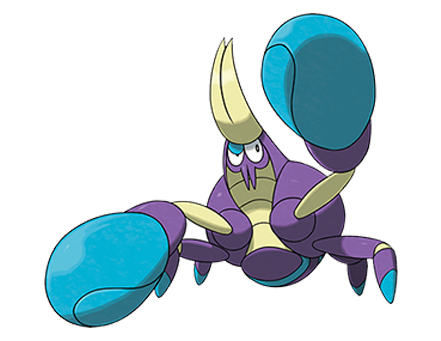 Series: Pokémon Sun & Moon
Pokedex No.: Unknown
Height: 2'00"
Weight: 15.4 lbs.
Type:

Crabrawler has a personality that really hates to lose, and it's driven not only to aim for a higher position than its fellows in terms of social standing, but literally to aim for a higher position in the landscape. Perhaps as a result, it's sometimes found clinging to tall people or to the walls of buildings! If you try to remove one against its will, you'll be met with a sound punch.

Crabrawler's favorite food is Berries. It punches the trunks of trees to give the branches a good shake and knock any ripe Berries to the ground so it can feast! Many Crabrawler may gather around a tree, but only the one that emerges victorious in battle against all the others receives the privilege of eating the ripe Berries.

Crabrawler uses its claws to protect its face and belly while getting in close to an opponent to throw punches. Its punches are powerful enough to split tree trunks! Crabrawler's pincers are sometimes torn off during its bouts—and they are said to be delicious.