Alolan Raichu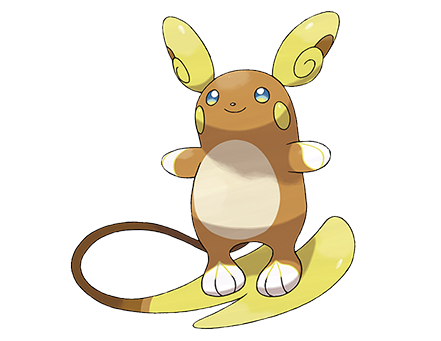 Series: Pokémon Sun & Moon
Pokedex No.: Unknown
Height: 2'04"
Weight: 46.3 lbs.
Type:

The Raichu in Alola have two types—Electric and Psychic—and they are able to wield psychic power. What's more, they can gather their psychic power in their tails and then ride on them to float in the air!

Even Pokémon researchers don't know why Raichu's form changed in the Alola region. The people of Alola seem unconcerned by the question. Their guess: maybe it ate too many sweet and fluffy round pancakes!

Raichu has electric sacs on its cheeks, and rubbing them causes a sweet aroma to be released. The mechanism behind this is not clear, but it's thought to be connected to the psychic power that Alolan Raichu possess.

The Alolan Raichu has a new Ability, Surge Surfer, which no other Pokémon has previously had. With the Surge Surfer Ability, the Pokémon's Speed will be doubled on Electric Terrain.