Alolan Marowak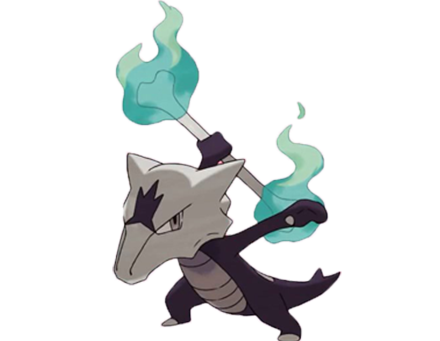 Series: Pokémon Sun & Moon
Pokedex No.: Unknown
Height: 3'03"
Weight: 75.0 lbs
Type:

The Marowak in the Alola region take bones and light both ends on fire by rubbing them against their foreheads. Then they spin the bones around! Marowak's rarity and its fearsome appearance when it dances with its bone led the people of Alola to dub it a conjurer and regard it with fear.

There are many Grass-type Pokémon—Marowak's natural enemies—in the Alola region. This makes Alola a harsh environment for Cubone and Marowak. As a result, they live in close union with their partners. It's said that their great care for their partners allowed them to gain something like a sixth sense and resulted in their changed form.

The Alolan Marowak proves skilled at an attack in which it waves its bone and releases a ball of flame. The fireballs are not that powerful, but they tirelessly pursue the foe!