Minior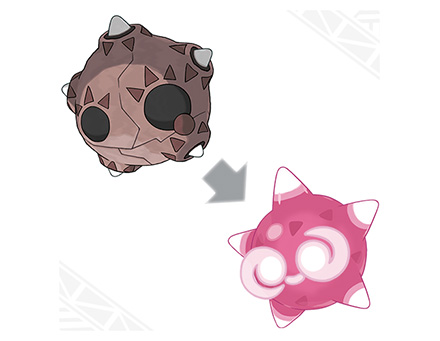 Series: Pokémon Sun & Moon
Pokedex No.: Unknown
Height: 1'00"
Weight: 88.2 lbs.
Type:

Minior are formed in the stratosphere and live by absorbing the detritus around them. When they've consumed a large quantity of particles, their bodies become heavy, and they fall toward the planet's surface. Minior has a hard and heavy outer shell with a core inside it. The Meteor Pokémon seems to be made in such a way that if its shell breaks, it becomes lighter and can deal out quick attacks.

When its shell breaks, the core in its center is revealed. You won't know what color will appear until this happens!

Minior has the new Shields Down Ability, which no other Pokémon has had before. With the Shields Down Ability, it will have excellent defensive capabilities as long as its shell is intact. It will also be protected from status conditions. But when its HP drops below half, its shell will break, and it will change to a form better suited to attacking.