Lurantis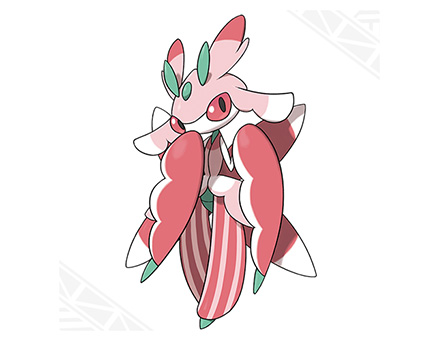 Series: Pokémon Sun & Moon
Pokedex No.: Unknown
Height: 2'11"
Weight: 40.8 lbs.
Type:

Lurantis draws opponents near to itself with its flowerlike appearance and aroma—and then it takes them down. It's said to be the most gorgeous of all Grass-type Pokémon, due to its brilliant coloration and elegant moves. Lurantis's appearance is maintained through detailed grooming. It will trust a Trainer who does a good job of caring for it, but it will apparently have a difficult time growing closer to a lazy Trainer.

Lurantis can learn Solar Blade, a move that releases a blade-shaped beam to mince up its foes. The blade is so sharp it is said it can slice a rock in half! Solar Blade is a move that no Pokémon has been able to learn before. With Solar Blade, Lurantis absorbs energy from the sun on the first move and then unleashes a powerful attack on the second turn. Lurantis is the Totem Pokémon of Lush Jungle, the site of an Akala Island trial. It will overwhelm trial-goers with the powerful combos it unleashes with the Pokémon allies it calls.