Alolan Sandslash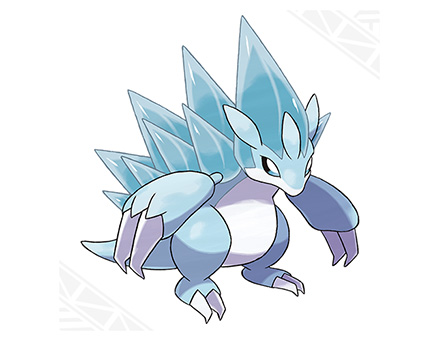 Series: Pokémon Sun & Moon
Pokedex No.: Unknown
Height: 3'11"
Weight: 121.3 lbs.
Type:

The Alolan Sandshrew of the snowy mountains evolve into Alolan Sandslash with spiny backs that are covered in ice. Thanks to their icy coating, these spines are large and sharp. Alolan Sandslash hide themselves in the snow when strong enemies appear, leaving only their needles exposed and ready for business.

The weight of the ice that covers its body makes these Alolan Sandslash heavier than normal Sandslash, and this causes them to be slower. Yet in snow fields and on ice, they move by creating a path with their claws, and so they're able to move with swiftness.

The sprays of snow kicked up by Alolan Sandslash's movements are so beautiful that many photographers head for the snowy peaks to capture the moment. However, Sandslash live deep in the mountains, and there is great danger of becoming stranded, so it's forbidden to climb the mountains without permission.