Alolan Sandshrew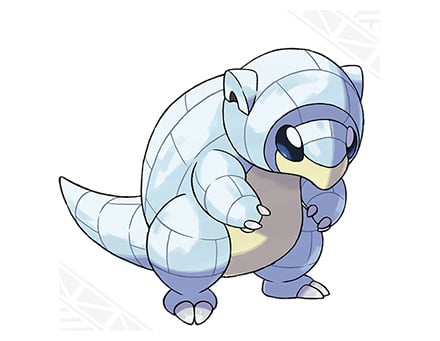 Series: Pokémon Sun & Moon
Pokedex No.: Unknown
Height: 2'04"
Weight: 88.2 lbs.
Type:

Sandshrew have historically lived in desert areas. But the frequent eruptions of nearby volcanoes drove the Sandshrew to abandon the desert and migrate to snowy mountains, where they took on this form.

Sandshrew's body changed to adapt to the harsh environment of the snowy mountains. The Alolan Sandshrew has a shell of ice covering its skin, which is like hard steel. It excels defensively, but it lacks flexibility and can't curl its body into a ball like a Ground-type Sandshrew can.

Its heavy weight makes the Alolan Sandshrew slower than a normal Sandshrew, but the claws on its hands and feet allow it to move across ice without slipping. When it wants to move quickly, it uses its stomach to slide across the ice like a curling rock.