Magearna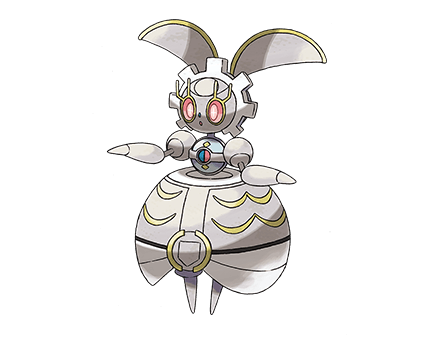 Series: Pokémon Sun & Moon
Pokedex No.: Unknown
Height: 3'03"
Weight: 177.5 lbs.
Type:

Magearna is a Mythical Pokémon that was created by a scientist of uncommon genius 500 years ago. Magearna has the power to perceive the emotions, thoughts, and feelings of other Pokémon. If a Pokémon is injured, Magearna will feel the other's pain and suffering and will try as hard as it can to save that Pokémon.

Magearna's real body is the spherical construction in its chest called the Soul-Heart, created by a scientist who gathered the life energy from Pokémon.

Magearna has the ability to transform itself into the appearance of a Poké Ball! It does so when it sleeps, and apparently also when it's sad.

Magearna's Ability is the Soul-Heart Ability, a new Ability that no previous Pokémon has had. Soul-Heart has the effect of raising Magearna's Sp. Atk by 1 each time another Pokémon in the area faints. This is a new Ability—one that can be put to good use in battle.

If you use the new QR Scanner function in Pokémon Sun and Pokémon Moon to scan in the corresponding QR Code, you'll be able to obtain the Mythical Pokémon Magearna! Magearna will be a special ally that you can put to work on your behalf in the world of Pokémon Sun and Pokémon Moon.

Check back at Pokemon.com/SunMoon for details on where to find the QR Code to get Magearna!