Bruxish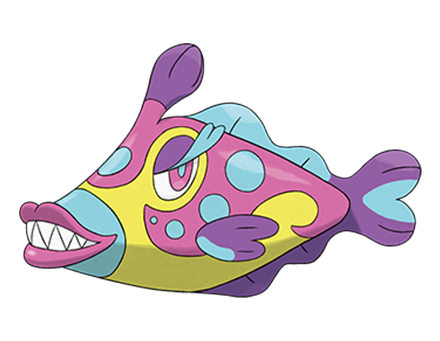 Series: Pokémon Sun & Moon
Pokedex No.: Unknown
Height: 2′11″
Weight: 41.9 lbs.
Type:

Bruxish emits a strong psychic power from the protuberance on its head. When its opponents are bathed in this power, they're stricken with terrible headaches and fall unconscious. As it emits its psychic power, it grinds its teeth loudly. When nearby Pokémon hear the sound of Bruxish's teeth gnashing, they sense danger and flee immediately.

In the Alola region, lifeguards let Bruxish remain in their area to prevent dangerous Water-type Pokémon from gathering there.

Bruxish digs holes in the seafloor, leaving just the protuberance on its head exposed, while emitting a low level of psychic power. This serves as radar, so when it detects prey, it can leap to the attack!

Bruxish can have the new Ability Dazzling, which no other Pokémon has ever had. The Dazzling Ability prevents opponents from using priority moves that normally strike first.